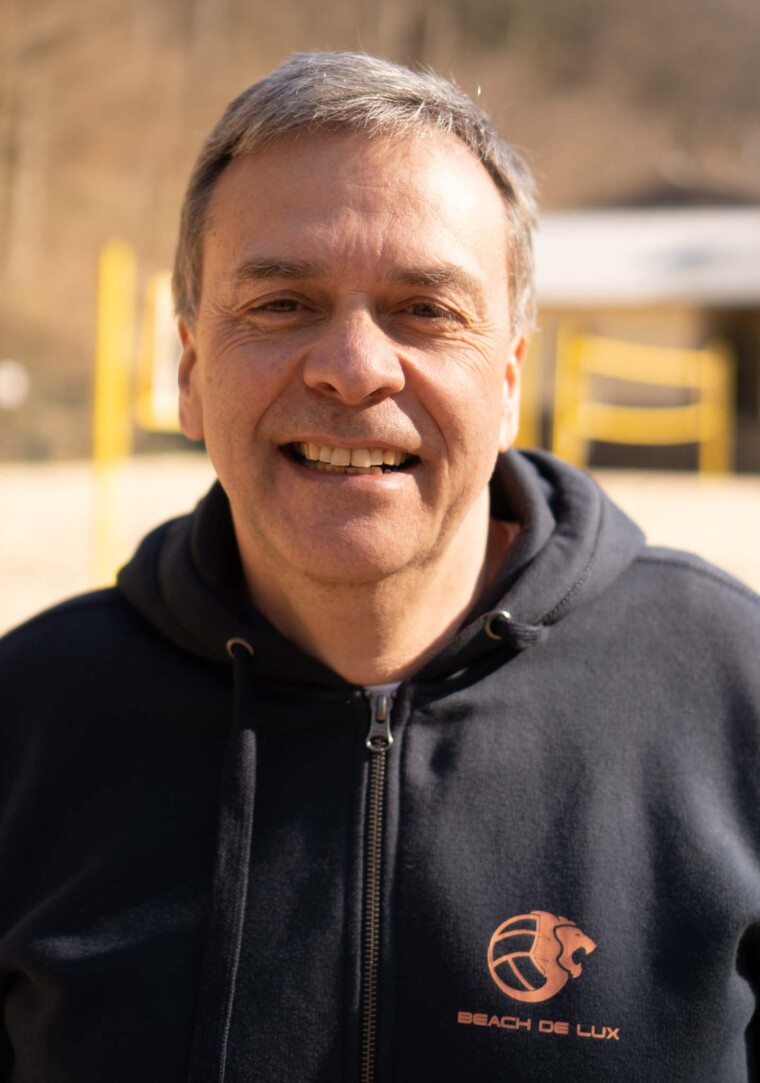 President
Brief info
It all started in 2006, when Erik Schmidt, the former coordinator for beach-volleyball (BVB) at CEV and myself saw the urgent need to build a club structure and community in Luxembourg dedicated exclusively to BVB.
Sports and foremost team sports always played a major role in my life. Born in 1963, raised in a Volleyball family, (my father was a P.E teacher and a former president of the Luxembourgish Volleyball Association FLVB), after first playing basketball, I started to play Indoor Volleyball in 1976, and to start my international career in 1980 at the age of 16.
11 years later, after gathering 111 international matches, 5 national championships, 7 cup wins, 3 years spent in Germany in Regionalliga and 2. Bundesliga, and most importantly, a gold medal of the Games of the Small States of Europe and the Small Countries Championships in hand, I left the international level of Indoor Volleyball for a few years to build a family and professional career.
It took a very nasty injury in 1993 to make me discover BVB and to put my feet in the sand in Esch at one of the first LBO tournaments. A new passion was born! These days, there were almost no beach courts in Luxembourg. It took some years and intense administrative efforts to develop the new Olympic sport in Luxembourg. If you are interested and have a few spare hours, come up and meet me at one of our BDL tournaments, I'll be available for more details.
A local sports magazine surnamed me 'Mr. Luxbeach' in 2005, organizer of several national championship tournaments and series, but also as a player. I am proud to be, together with Laurent Schoder the first Luxembourger with a world ranking in Beach-volleyball in 2006, having earned a prize money of 100 USD. Other highlights were the national title in 2011 together with Roman Richtarik at the age of 47, runner-up in 2014 and Beach Volleyball tournament director of the 2013 GSSE.
Since 2016, I am the only Luxembourgish coach at the Beachline festival in Riccione, Europe's largest BVB training and tournament event, official bearer of a BVB trainer agreement in Luxembourg and official BVB referee.
From the beginnings in 2006, Beach de Lux also tried to care for the business community. Since 2009, BDL are the proud organisers of the BVB tournament at the Business Games and the System Solutions Beach Day.
Beach de Lux regained a solid momentum in 2018 after the Summer series in Lintgen, with a complete renewal of its board and a move to the fantastic BVB site in Lintgen. As BDL, we are immensely thankful to the mayor and the municipal council of our new host city.
Nothing can stop the positive energy of BDL, not even the 2020 COVID19-pandemic. We still plan to share our knowledge, organise tournaments and championships, such as the National Mixed Championship and the play-off Round for the national Championship in September.